Acrylic Swimming Pool Paint - Aqua Kote

SKU: NPF-630
Overview
Product Overview:
---
Aqua Kote acrylic swimming pool paint is an exciting one-part water-based pool paint built on decades of experience. It is self-priming, so no need for a prime coat! It is designed for high humidity conditions where getting and keeping a pool dry for painting is a problem. Aqua Kote can be applied to a damp pool surface, so no need to wait for the surface to dry completely. Scroll down to see color chart.
**Free Shipping on Orders of $299 or more (48 US States Only). Please see our Shipping page for more information.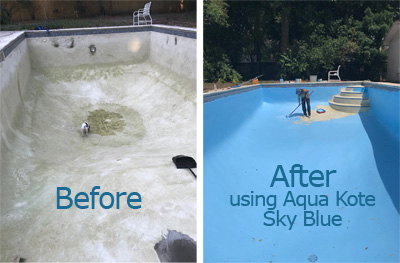 Use On:
---
Concrete, plaster, marcite, gunnite swimming pools
Concrete fountains
Bird Baths or ponds - Aqua Kote is marine life safe!
Swimming pools where current paint is unknown
Swimming pools in high humidity areas that are hard to keep dry
Swimming pools with limited down times (Aqua Kote has fastest curing times)
NOT recommended for fiberglass or spas/hot tubs - use epoxy paint for those applications.
Paint Application:
---
Can be applied to damp surfaces.
Can be applied over all other pool paints.
Perfect paint to choose if you do not know what paint is currently on your pool and you want to recoat.
Cures quickly, and pool can be back in service in 3 days.
Effective against chlorine, shock and algae, and has excellent color retention.
Best of all, cleans up and thins with water!
No solvent fumes.
Great for concrete, gunite and plaster surfaces.
Rolling is recommended application - use 3/8" nap roller.
Two coats recommended to achieve maximum service life - wait 24 hours between coats.
Use Non-Skid Additive for traffic areas, such as pool steps.
See Preparation and Cleanup for more products that you will need to start and complete your painting project.
Don't know which pool paint to buy? Click here to find out:
What Swimming Pool Paint Do I Need?
Coverage Details:
---
200 square feet / gallon on bare concrete;
300 - 400 square feet / gallon on recoats
2 coats needed for proper application
2-3 year service life
No Primer Needed - Self Priming Paint
Available in 1 gallon pails.
Available in white, medium blue, aqua, royal blue, sky blue, black. See below for samples of the colors.
NEED HELP PREPARING AND PAINTING YOUR POOL? NEED HELP FIGURING OUT HOW MANY GALLONS YOU'LL NEED?

Go to our DIY Pool Painting Tips page for more info.

STOCK COLORS (no additional charge, returnable):




CUSTOM COLORS (Additional Fees Apply, NOT Returnable):
Click on Color Chart to View Larger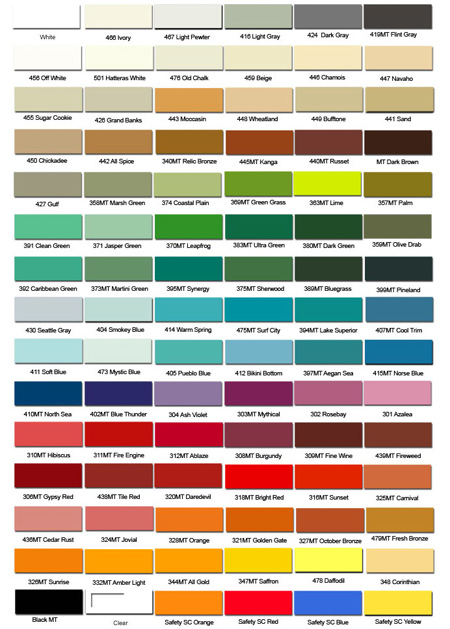 Reviews
Add Your Review
Reviewer: timothy hardegree
12/04/2018 07:29am

This a quality pool paint for a very quality dollar. After preparation, the first coat went on very smooth and filled every divit in the concrete. Dried fairly quickly.The second coat went on even easier and looks great. 2 months in and looks like a new pool, but only time will tell if it last. I hope to get 3 years out of it. Impressed so far, called for 7 gallons and only used 6 for a 20x30 inground pool.
Reviewer: Tim hardegree
12/03/2018 09:02pm

First of all, great quality paint for the dollar. The paint went on nice and smooth initially, covering every aspect of the pool including the concrete divits. I was then able to resand a few areas where the paint actually bonded so well that it pulled the older lose paint up. The second coat went on super smooth and easy. Looks great after 2 months and hope it last. All in all this was an outstanding experience! Thank you.
Reviewer: Robert H, US Army
05/01/2018 12:59pm

(thought you might enjoy some feedback on your products) A+

Great Pool paint and only had about 3 ounces left over. Also I convinced my wife to do most of the Painting. My neighbors are plan to get their pool paints from you all too.

Take care and again thanks for the Professional Services. Everything was on time and a smooth operation.


Add Your Review
Tell a Friend