Ramuc Pro 2000 Chlorinated Rubber Swimming Pool Paint

SKU: RPP-9205
Overview
Product Overview
---
The Ramuc Pro 2000 Chlorinated Rubber Coating is designed for commercial use where pool maintenance is scheduled annually. Rejuvenate and upgrade previously painted chlorinated rubber pools or protect bare concrete, plaster, or gunite swimming pools. Chlorinated rubber is not for use on spas or whirlpools.
Only available in white, black and dawn blue color.
Pricing & Shipping
---
CLICK HERE TO ORDER 5 GALLON SIZE
**Free Shipping on Orders of $299 or more (48 US States Only). Please see our Shipping page for more information.
** VOC regulations do not allow the shipment of this product to customers in CA, CT, DC, DE, MA, ME, MD, NJ, NY, PA, MI and VA. To order chlorinated rubber paint in these states, please purchase the National Brand Chlorinated Rubber Paints, which are not restricted.
*For shipping prices outside of the continental US, please e-mail us at info@poolandmarinepaint.com for a quote.
NEED HELP PREPARING AND PAINTING YOUR POOL? NEED HELP FIGURING OUT HOW MANY GALLONS YOU'LL NEED?

Go to our DIY Pool Painting Tips page for more info.
Paint Application
---
Upgrades previously painted chlorinated rubber or unpainted surfaces
Self-priming
Two-coat system
Pro 2000 Chlorinated Rubber covers 150-175 sq. ft. on first coat and 250-300 on second and recoats.
Chlorinated rubber is not for use in spas, whirlpools, etc.
Must be applied to dry surfaces
Flat finish - may stain and wear faster than Type A Chlor. Rubber
Don't know which pool paint to buy? Click here to find out:
What Swimming Pool Paint Do I Need?
View Product Guide
Color Chart
---
Only available in white, black and dawn blue color.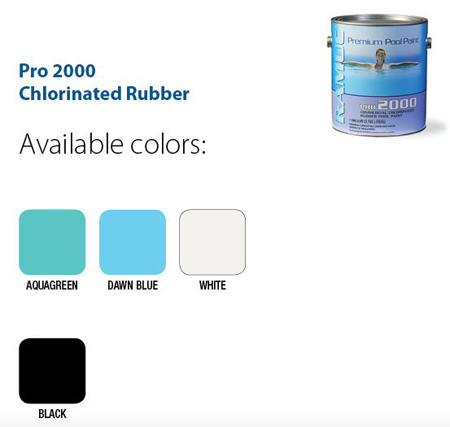 Reviews
Add Your Review
Currently there are no reviews for this product. Share your opinion with others, be the first to write a review.
Add Your Review
Tell a Friend