Industrial Strength Water Based Polyester Urethane Kit

SKU: Nep4400
Overview
Industrial Strength Water Based Polyester Urethane Kit
Neptune 4400 Satin
PRODUCT OVERVIEW
---

Neptune 4400 is our INDUSTRIAL STRENGTH, premium two component, low VOC, low odor, high performance, water-based, water reducible, non-yellowing, aliphatic polyester urethane coating. It has excellent UV, chemical and abrasion resistance. It's a flexible urethane that can be used for interior and exterior applications.


Exceptional Bonding Capabilities – No primers needed; direct to most surfaces including ferrous and non-ferrous metals without destructive surface preparation

Types of Surfaces – Concrete, stained concrete, carbon steel, aluminum, galvanized metal, stainless steel, fiberglass, wood, clay/masonry surfaces, stone, hardwood, terrazzo, vinyl composition tile (VCT), vinyl sheeting, ceramic and other tile and grout surfaces with the addition of Adhesion Bond

For Interior or Exterior Use – Allows for a high performance urethane to be used indoors while the building is in operation

Very Repairable – Small sections can be repaired without noticing or redoing the entire section

Significant Cost Savings – Reduces cost by less coats, no primer needed, labor reduction and longer lasting which means more time between recoats

For Vertical or Horizontal Surfaces

Brush, Roll, or Spray Application

**Free Shipping on Orders of $299 or more (48 US States Only). Please see our Shipping page for more information.


*SCROLL DOWN FOR BEFORE/AFTER PICTURES

USAGE
---
Direct to most surfaces without the need of a primer, including:
Metal

Concrete

Wood

Fiberglass

Aluminum

Ferrous & Non-Ferrous Metal

Steel

Previously Painted Surfaces
APPLICATION
---

The product can be applied direct to most surfaces. If applying over a solvent-borne primer, allow the primer to adequately cure in order for all solvents to evaporate according to manufacturer recommendations for recoat times for water-based urethanes. Recoat Note: When applying multiple coats, lightly abrade between coats using a 160 mesh screen within 24 hours. After 24 hours, sand between coats with a 120 mesh screen. Abrading and sanding is done to ensure successful adhesion between coats.
Equipment:
Airless Spray: Unit: 2,000 – 2,400 psi Tip: 0.015 – 0.017 Hose: 1/4" or 3/8" Note: Do not use over 50 ft. hose
Air-Assist Sprayer: Unit: 500 – 600 psi Tip: 0.015 – 0.017 Tip Pressure: As needed for proper atomization
Conventional: DeVilbiss pressure pot with ± GA 503 gun and FF needle assembly with 777 air cap.
Roller: Vertical surfaces use ¼" woven nap, phenolic core. Horizontal surfaces use 3/8" woven nap, phenolic core.
Brush: Nylon polyester blend
RECOMMENDED MARKETS FOR INTERIOR/EXTERIOR USE:
---
Airports / Transportation

Industrial Equipment

Amusement / Theme Parks

Marine Industry

Anti-Graffiti Systems

Power Plants

Auto Dealerships

Pulp & Paper

Chemical & Petrochemical

Railcar / Transport Vehicle

Commercial Buildings

Residential Buildings

Garage Floors

Corporate Offices

Restaurant / Food Service

Dry Erase Systems

Retail Stores

Healthcare / Pharmaceutical

Education

Hospitality

Food & Beverage Industry

Government Buildings

Transmission Pipelines

Gymnasiums

Warehouse / Manufacturing

Waste Water / Municipal

Waterslides & Structures

Suitable for use in USDA Inspected Facilities




SURFACE PREPARATION
---
Steel: Remove all loose rust, dirt, grease or other contaminants per SSPC-SP1, SSPC-SP2 and SSPC-SP3 (e.g., low or high pressure with cleaner).

Aluminum: Remove all oil, grease or soap film with a neutral biodegradable detergent or emulsion cleaner.

Galvanized Metal: Remove all oil, grease or soap film with a neutral biodegradable detergent or emulsion detergent.

Concrete / Masonry / Concrete Blocks: Clean masonry substrates with neutral biodegradable detergent or emulsion cleaner to remove laitance using low or high pressure washer. For high build systems, use Acrylic/Epoxy Primer for first coat (Note: Due to the vast differences in concrete substrates consult your sales representative for the proper coating system specifications).

Wood: Sand new wood to remove any surface contaminant and to lower grain. Previously finished wood should be sanded to provide good adhesion. Test patches are recommended.

Previously Painted Surfaces: Properly clean the surface of all dust, dirt, grease and foreign matter. Apply a test patch to ensure adhesion to the previously painted surface and also to ensure there will not be any delamination of the previously painted coating from the substrate. Note: In order to ensure optimum performance, remove the previous coating to bare substrate and then apply the proper Top Secret coating system as specified by your sales representative.

Anti-Graffiti System: Follow appropriate surface preparation as noted above. For optimum performance use two coats.


MIXING INSTRUCTIONS(All products have a 3:1 ratio)
---

DO NOT SHAKE. Separately stir each component thoroughly and then mix the premeasured Part B with the Part A. Mix combined Parts A & B thoroughly by hand or slow speed drill to ensure they are blended together, but avoid incorporating air during mixing. DO NOT MIX THE PRODUCT WITH A HIGH SPEED MIXER. Allow a 2 minute "induction time" for the mixture of Parts A & B. After the 2 minutes, the mixture of Parts A & B should be poured into a larger container for water reduction and to maximize pot life.

Reduce the combined mixture of Parts A & B by slowly adding Clean Tap Water at 2% to 15% depending on application method and surface. Reduce less for vertical surfaces, high humidity and more porous substrates. Reduce more for horizontal surfaces, low humidity and smooth substrates. Do not mix more than 2 gallons at a time in a 5 gallon container because the product is mass sensitive; increasing mass will reduce pot life.

To commence applying the product, once properly mixed per above instructions, the product should be poured off (increasing surface area) into a roller pan or other suitable containers in order to maintain the 90 minute pot life. If spraying the product from 5 gallon containers the pot life will be reduced to 20 minutes; therefore it must be sprayed within 20 minutes. Do not mix product towards the end of or past its pot life with freshly catalyzed material; discard unused product at the end of pot life. Do not reseal containers once product is catalyzed.
Clean up with Acetone or Xylene.


ENVIRONMENTAL:
---
Low to Zero VOCs – The volatile organic compounds (VOCs) are less than 15 grams / liter

Virtually Odorless – Does not require special breathing apparatus / respirators and does not omit any free monomers after parts A & B are mixed

Produced in Total Water – Does not use solvents, exempt solvents or any co-solvent

Does Not Contain Proposition 65 Chemicals – These chemicals are known to the state of California to cause cancer and birth defects

Meets U.S. Building Councils' LEED Criteria – Under EQ 4.2 for Low-emitting paints and coatings

"Super Compliant" Coating – it is on California's South Coast Air Quality Management District "Super Compliant" list of products with VOCs less than 10 g/l

ENERGY STAR Qualified & Cool Roof Rated Product – Tested for 3 years at 3 different weather farms (FL, OH and AZ) and sent to UL for evaluation of the solar reflectance (Initial 0.83 and Aged 0.78) and thermal emittance (Initial 0.91 and Aged 0.85)

BEFORE/AFTER PICTURES:
---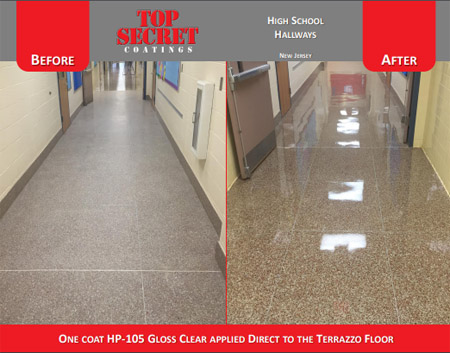 Reviews
Add Your Review
Currently there are no reviews for this product. Share your opinion with others, be the first to write a review.
Add Your Review
Tell a Friend