Chlorinated Rubber EXTRA Pool Paint - Pool Shield CRX

SKU: NPF-640
Overview
Pool Shield CRX is National's exciting extended-life chlorinated rubber built on decades of experience. Long life performance provides extended time between pool recoating. Silicone & UV Stabilizers acts like a "sunblock", slowing down harmful sun rays.
Crammed full of High Solids Chlorinated Rubber gives extended water-proof protection. Renew that tired pool with the new standard in the industry, and watch the years go by.
**Free Shipping on Orders of $299 or more (48 US States Only). Please see our Shipping page for more information.
Don't know which pool paint to buy? Click here to find out:
What Swimming Pool Paint Do I Need?
A PREMIUM chlorinated rubber coating.
Applies over other chlorinated rubber pool paints in good condition, as well as bare concrete and plaster surfaces. For new or old concrete pools.
Resists fading, chemicals and abrasion.
Coverage: 200 square feet / gallon on bare concrete; 300 - 400 square feet / gallon on recoats
2 coats needed for proper application
No Primer Needed - Self Priming Paint
Available in 1 gallon pails.
NOT for use on fiberglass or spas/hot tubs - use epoxy paint for those applications.
Available in white, medium blue, aqua, royal blue, sky blue and black. Scroll down for color samples.
NEED HELP PREPARING AND PAINTING YOUR POOL? NEED HELP FIGURING OUT HOW MANY GALLONS YOU'LL NEED?

Go to our DIY Pool Painting Tips page for more info.

PLEASE NOTE: THIS PAINT CAN ONLY SHIP WITHIN THE CONTINENTAL UNITED STATES. CANADIAN, HAWAIIAN AND ALASKAN RESIDENTS CAN ORDER THE COMPARABLE PAINT FROM RAMUC.
STOCK COLORS (RETURNABLE)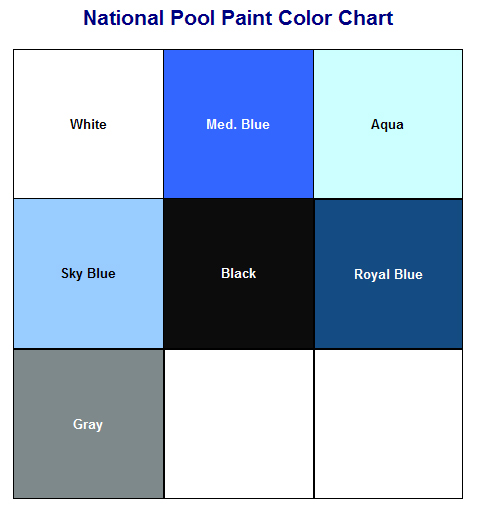 CUSTOM COLORS (Additional Fees Apply, NOT returnable):
CLICK ON CHART TO VIEW LARGER IMAGE: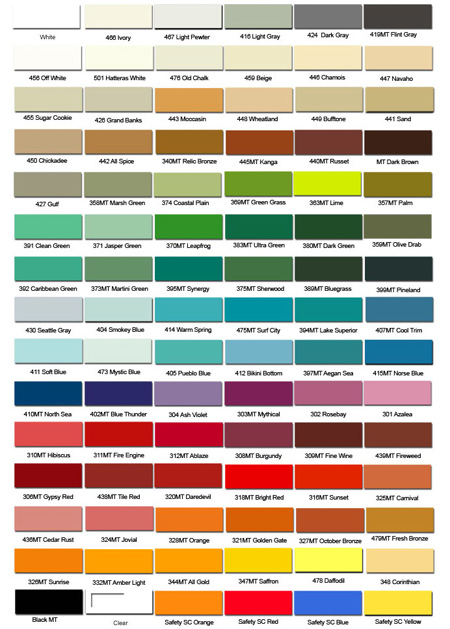 Reviews
Add Your Review
Currently there are no reviews for this product. Share your opinion with others, be the first to write a review.
Add Your Review
Tell a Friend