Ramuc Type A PREMIUM Chlorinated Rubber Pool Paint

SKU: RPP-9021
Overview
Chlorinated Rubber Pool Paints are easy to apply and provide a smooth surface that is easy to clean and maintain. Type A Chlorinated Rubber Paint is a PREMIUM chlorinated rubber paint that will rejuvinate your pool surface with a beautiful high gloss finish that will last up to 5 years.
Ramuc Type A Premium Chlorinated Rubber has been used in the industry for decades restoring and protecting plaster, concrete, and gunite pool surfaces. It is an excellent choice for recoating previously painted chlorinated rubber surfaces and is formulated to provide excellent hiding and superior coverage rates compared to other chlorinated rubber paints.
**Free Shipping on Orders of $299 or more (48 US States Only). Please see our Shipping page for more information.
** VOC regulations do not allow the shipment of this product to customers in CA, CT, DE, DC, IL, IN, MA, MD, ME, NH, NJ. NY, OH, PA, RI, VA, CANADA. To order chlorinated rubber paint in these states, please purchase the Ramuc Type A-2 Chlorinated Rubber Paint.
Don't know which pool paint to buy? Click here to find out:
What Swimming Pool Paint Do I Need?
Chlorinated Rubber Paints have been the paint of choice for residential and commercial use, and also offer the added advantage of recoatability over previously painted chlorinated rubber surfaces. *Scroll down for color samples.
Superior coverage rate compared to other chlorinated rubber paints
High gloss finish allows for easy cleaning
Easy to apply by roller or airless spray
Self-priming
Two-coat system
Best choice for painting murals and/or accents
NEED HELP PREPARING AND PAINTING YOUR POOL? NEED HELP FIGURING OUT HOW MANY GALLONS YOU'LL NEED?

Go to our DIY Pool Painting Tips page for more info.
Chlorinated Rubber coatings have been used for more swimming pools than any other type of paint.
Best applied by 3/8" nap roller.
Ideal temperature for application is 50-70 degrees F.
Type A covers 200-300 sq. ft. on first coat with 350-400 sq. ft. on second or recoats.
Application:
-Roller/Brush/Spray
-Mixing: Mechanically mix
-Fill Time - Outdoor: 5 dry days
-Fill Time - Indoor: 10 days
-Clean-Up: Ramuc Thinner
-Limitations:
Must be applied to a dry surface
Not for use on spas or fiberglass/gelcoat pools
For use on bare surfaces or surfaces previously painted with chlorinated rubber paint only
View Product Guide
*For shipping prices outside of the continental US, please e-mail us at info@poolandmarinepaint.com for a quote.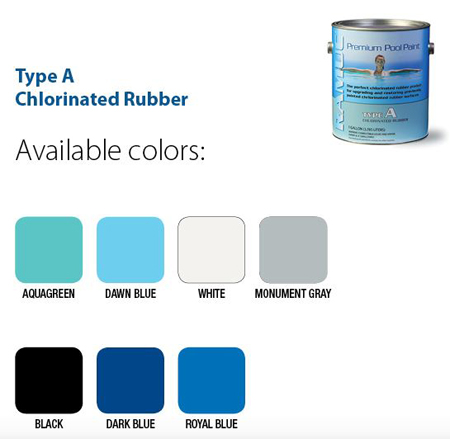 Reviews
Add Your Review
Reviewer: Doug
07/14/2019 11:36am

Excellent paint very easy to use , i highly reccomend this paint
Add Your Review
Tell a Friend