Ramuc Hi Build Epoxy Swimming Pool and Spa Paint - 2 gallon kit

SKU: RPP-9122
Overview
Ramuc's Hi Build Epoxy Swimming Pool Paint offers a hard, tough, durable finish with unsurpassed stain, chemical, and abrasion resistance. These epoxy paints can be built to 20 mils and more, offering smoothing qualities on rough surfaces. Because of their chemical cure, these epoxies are the paint of choice for indoor and outdoor pools.
**Free Shipping on Orders of $299 or more (48 US States Only). Please see our Shipping page for more information.
RAMUC coatings are rapidly becoming the paints of choice for longest lasting application of concrete, gunite, plaster, marcite, fiberglass pools and spas. CANNOT be applied to chlorinated rubber, metal, wood.

Scroll down for color samples.
Don't know which pool paint to buy? Click here to find out:
What Swimming Pool Paint Do I Need?
* EP Hi Build offers the longest lasting protection of any RAMUC pool paints.
Builds up to 8 mils dry per coat to a hard satin finish. (Mix ratio 1:1)
Packaged in a 2 gallon kit.
Renovates aged concrete, plaster, and fiberglass surfaces
Up to eight or more years of service life
Satin finish
Abrasion and chemical-resistant
Superior choice for spas and other fiberglass surfaces.
Self-priming
Two-coat system on bare surfaces
Alternative to replastering at one-third the cost
Closed containers have a shelf life of 5 years
Scroll down to see colors.
NEED HELP PREPARING AND PAINTING YOUR POOL? NEED HELP FIGURING OUT HOW MANY GALLONS YOU'LL NEED?

Go to our DIY Pool Painting Tips page for more info.
Application: Roller/Brush/Spray
Mixing: Mechanically mix
Fill Time - Outdoor: 5-7 dry days
Fill Time - Indoor: 10 days
Clean-Up: Ramuc Thinner
Limitations:
Three-hour "pot life" when component A and B are mixed together.
Do not apply to a weak or unsound surface.
Non-tintable
View Product Guide
*For shipping prices outside of the continental US, please e-mail us at info@poolandmarinepaint.com for a quote.
**New concrete must be cured 28 days before painting
**Adhesion will be adversely affected on concrete surfaces treated with a curing agent.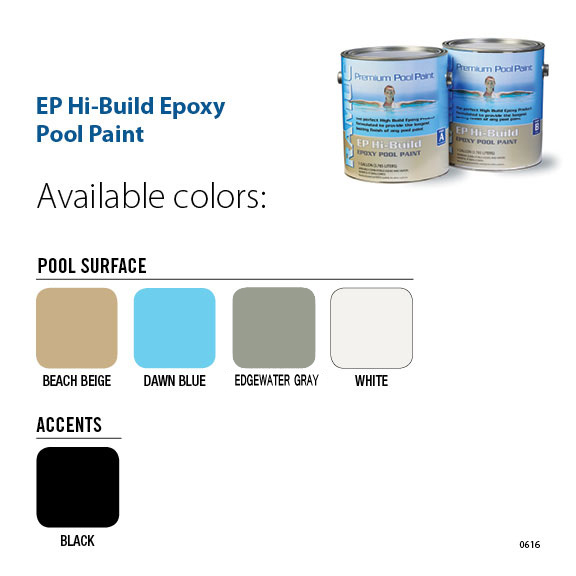 Reviews
Add Your Review
Currently there are no reviews for this product. Share your opinion with others, be the first to write a review.
Add Your Review
Tell a Friend