Epoxy Swimming Pool Paint - Pool Guard Epoxy (2 gal kit)

SKU: NPF-620
Overview
Pool Guard Epoxy Swimming Pool Paint
Product Overview
---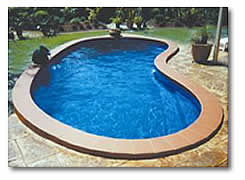 Pool Guard Epoxy Swimming Pool Paint is National's two-part solvent based epoxy coating for swimming pools, spas, fountains and ponds designed for protection against UV rays and chlorine.
Pool Guard Epoxy is a two part epoxy coating perfect for residential and commercial applications where painting is performed more frequently. This epoxy paint provides maximum protection from UV Rays, chlorine, algae, suntan oils, dirt and grime and gives a very hard tile finish that is easy to keep clean is extremely durable against automated cleaning systems. Also provides extended protection against chalking, algae & fading. So step up today and use the epoxy pool paint the true professionals trust!
**Free Shipping on Orders of $299 or more (48 US States Only). Please see our Shipping page for more information.
Don't know which pool paint to buy? Click here to find out:
What Swimming Pool Paint Do I Need?
Use On:
---
Swimming pools with plaster, concrete, gunite, marcite or fiberglass substrates.
Swimming pools currently painted with epoxy paint.
Steel-walled swimming pools (use the Rust No More Primer prior to painting with the epoxy
Fountains
Spas/Jacuzzis
Ponds
Water basins
Slides
Water Features
Paint Application
---
Comes in 2 gallon kit
Applies over most types of epoxy pool coatings in good condition, as well as bare concrete, gunite, plaster, and marcite. CANNOT be used on top of surfaces previously painted with chlorinated rubber or water-based acrylic paints.
Dries quickly, is durable, and resists fading abrasions and chemicals.
Coverage:
300 - 400 sq. ft. per 2 gallon kit per coat on bare concrete surfaces
500-600 sq. ft. per 2 gallon kit per coat on recoats.
2 coats are recommended for proper application.
No Primer Needed - Self Priming Paint
Comes in white, medium blue, aqua, royal blue, sky blue, black. Scroll down to see sample colors.
NEED HELP PREPARING AND PAINTING YOUR POOL? NEED HELP FIGURING OUT HOW MANY GALLONS YOU'LL NEED?

Go to our DIY Pool Painting Tips page for more info.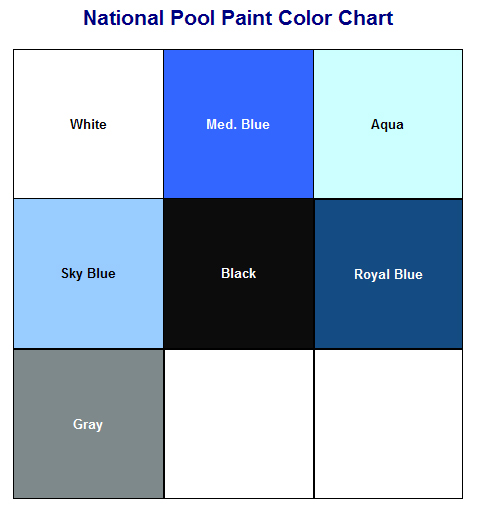 Reviews
Add Your Review
Reviewer: D. Schrader
06/06/2012 12:36pm

This is great paint and a great company to do business with. We love the way the paint looks on our pool! We ordered more than we needed, and return was easy. Just follow the instructions from the company.
Reviewer: harley martin
05/22/2012 08:15am

just want to say the pool looks good, the only thing is make sure you order plenty of paint. i called to make sure that i had order plenty of paint, they said i did, which was plenty, but i wanted to do a little more, and it toke them a week just to fill my order plus 3 working days for shipping
Add Your Review
Tell a Friend