Silicone Epoxy Paint for Kitchen Appliances, Cabinets, Countertops & Sinks

SKU: TS-100
Overview
Silicone Epoxy Paint for Kitchen Appliances, Cabinets, Countertops & Sinks
Product Overview
---
Silicone Epoxy is a unique resin blend paint that produces extraordinary results in a wide variety of applications. Silicone combined with epoxy produces a long lasting finish that is both hard and flexible at the same time. Silicone Epoxy Paint is perfect for painting kitchen countertops, backsplashes, kitchen appliances, sinks, fixtures, kitchen cabinets, formica, laminated materials, drywall, tubs, tiles and more!
Silicone Epoxy Paint offers unequalled performance where water, grease, oil or intense UV are regularly present and offers a high level of adhesion with good flexibility, hardness, chemical resistance and resistance to extreme cold and high heat. Offers remarkable leveling properties combined with outstanding color and gloss retention making it a compelling choice. Apply two or more thin coats for best results.
Brush, roll or spray application.
Self-levels like no other paint in brush and roll applications.
Produces a hard yet flexible finish light weight finish.
No-mix formula.
Unequaled UV resistance, colorfastness and gloss retention.
Withstands heat to 550F.
Easy to use low VOC low odor no-mix product.
Approved for food service.
Provides a high level of chemical resistance.
High adhesion with good hardness.
100 Custom Colors Available including Clear!! Scroll down to see color chart.

Please Note: All colors are custom-mixed. No returns allowed on this paint.
Pricing & Shipping
---
Gallon: $129.95
Quart: $44.95 - CLICK HERE TO ORDER QUART SIZE

**Free Shipping on Orders over $299! (48 US States Only). Please see our Shipping page for more information.
Use On:
---
SURFACES:
Previously painted surfaces
Concrete, drywall, plaster
Plastic
Wood
Masonry and brick
Porcelain
Ferrous and nonferrous metals
Formica
Laminated materials
Composite materials and synthetics
USES:
Countertops
Appliances
Fixtures
Cabinets
Sinks
Backboards
Kitchen splash areas
bathrooms
Doors, windows, mouldings, millwork, walls and trim
Paint Application
---
THINNER: TS-101 Leveling Thinner
Spray, brush or roll.
Self-priming in two or more coats on most surfaces.
CLICK HERE FOR COMPLETE APPLICATION INSTRUCTIONS

CLICK HERE FOR REFINISHING INSTRUCTIONS FOR TUBS, SINKS, TILES AND COUNTERTOPS
Color Chart
---
CLICK ON CHART TO VIEW LARGER IMAGE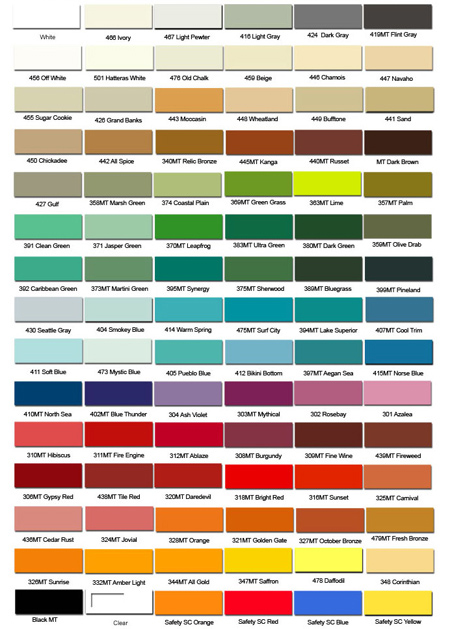 Reviews
Add Your Review
Reviewer: Ed Mampreyan
10/30/2014 01:11pm

I want to update you regarding the TS-100 you sent me back in June. I held off with application because my plan to move into my RV were delayed so I covered it with a tarp & waited for cooler days to paint. I am happy to report the TS-100 worked like a charm! I used a 1/4 inch woven-mohair roller nap for application. The TS-100 was easy to work with. It leveled out nicely and most importantly dried to a rock-hard, super-high gloss finish. Thanks again for your help.
Add Your Review
Tell a Friend