Aquapoxy II Water-based Epoxy Floor Paint

SKU: TS-920
Overview
Aquapoxy II Water-based Epoxy Floor Paint
Product Overview
---
Aquapoxy II a unique and technically advanced product because it includes A resin and B catalyst combined in one container, effectively making it a two-component product in one can - and guaranteed to last 20 years! Aquapoxy is a water-based epoxy paint perfect for basement floors, kitchen floors, garage floors, industrial spaces, hangars, bathrooms and more.
Once applied the molecules cross-link greatly increasing hardness and durability. Utilizes nano-technology producing superior adhesion (micro-ground particles penetrate concrete producing a permanent bond) providing results not commonly associated with water based epoxy finishes. It is low VOC, nontoxic and environmentally friendly.
Acceptable for use where there is motorized traffic, chemicals, salt, high impacts and abrasions. It will not lift to hot tires. The finish is breathable making it surface tolerant and easy to apply.
Use as one-coat or two-coat system.
Utilizes nano-technology to produce superior adhesion.
Eco-friendly, low VOC, low odor product.
No-mix formula makes it easy to use.
Surface tolerant breathable finish.
Provides good chemical resistance.
Self-priming.
Excellent hardness & durability.
Good colorfastness and gloss retention.
Self-leveling finish.
20 year guaranty.
Not for underwater use.
100 Custom Colors Available including Clear!! Scroll down to see color chart.


Please Note: All colors are custom-mixed. No returns allowed on this paint.
Pricing & Shipping
---
Gallon: $129.95
5 Gallon: $629.95 + Free Shipping - CLICK HERE TO ORDER 5 GALLON SIZE

**Free Shipping on Orders over $299! (48 US States Only). Please see our Shipping page for more information.
Use On:
---
Interior / exterior surfaces
Swimming Pool Decks
Concrete
Porous tile
Masonry
Plaster
Synthetic materials
Commercial and industrial spaces
Hangars
Commercial kitchens - Approved for food service
Bathrooms
Parking garages
Garages
Paint Application
---
Grinding or blasting not typically required with the use of TS-695 Etching Cleaner or muriatic acid.
Self priming, may be applied direct to concrete or over any existing coating.
1-COAT COVERAGE: use a 3/4" roller cover @ 200 sq ft per gal. 2-COAT COVERAGE: use a 3/8" roller cover @ 300 sq ft per gal.
Color is satin, clear is gloss. Apply one coat of color/one coat of clear for a gloss finish.
Thin with water.
Application: Brush, roll or spray.
CLICK HERE FOR COMPLETE APPLICATION INSTRUCTIONS
Color Chart
---
CLICK ON CHART TO VIEW LARGER IMAGE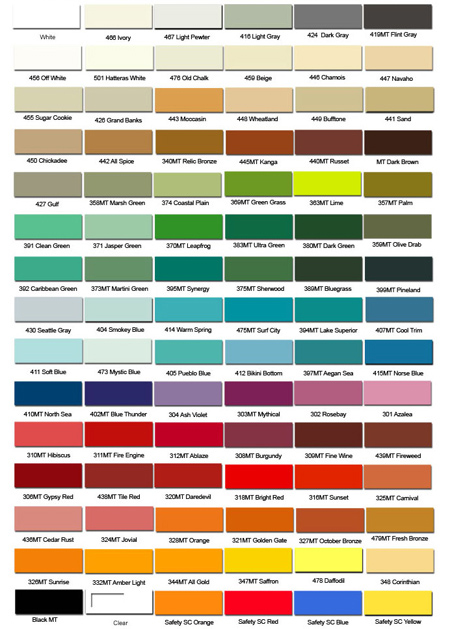 Reviews
Add Your Review
Currently there are no reviews for this product. Share your opinion with others, be the first to write a review.
Add Your Review
Tell a Friend