Decade 50 Year Wood Deck Paint - 5 GALLON

SKU: TS-190-5gal
Overview
Decade Exterior Wooden Deck Paint - 5 Gallon
Product Overview
---
Decade Wooden Deck Paint is perfect for extreme climates because it does not become brittle in cold weather or soften in high heat. Its unique combination of advanced resin technology and exceptionally high quality raw materials assures you of satisfaction.
Decade Wood Deck Paint is the last deck paint you will ever need! It creates an extraordinarily tenacious bond flexible enough to expand and contract with wood subject to extremes in weather, intense UV, and pool chemicals for decades.
Decade Wood Deck Paint is low odor, eco-friendly, produces a nontoxic finish and lasts longer than most deck paints. One gallon covers 200 square feet.
Allows you to finish your deck in just one day.
Will not crack or peel.
Provides a high level of wear resistance.
Protects wood for more than 50 Years on all colors except clear. Warranty card sent with order.
Easy to apply.
Low VOC.
No primer required.
Low odor.
100 Custom Colors Available including Clear!! Scroll down to see color chart.
Use On:
---
Wood decks
Stairs
Ramps
Pool decks
Pine, fir, redwood, cedar and many other wood species.
Suitable for use on synthetic deck materials.
Acceptable for use on wooden structures.
Handrails
Fences
Most any architectural wooden structure.
Paint Application
---
Apply a minimum of two or more coats by roller coat or spray to achieve a minimum dry thickness of 15 mils.
CLICK HERE FOR COMPLETE APPLICATION INSTRUCTIONS
Pricing & Shipping
---
Gallon: $109.95- CLICK HERE TO ORDER 1 GALLON SIZE
5 Gallon: $529.95 + free shipping
**Free Shipping on Orders of $299 or more (48 US States Only). Please see our Shipping page for more information.
Color Chart
---
CLICK ON CHART TO VIEW LARGER IMAGE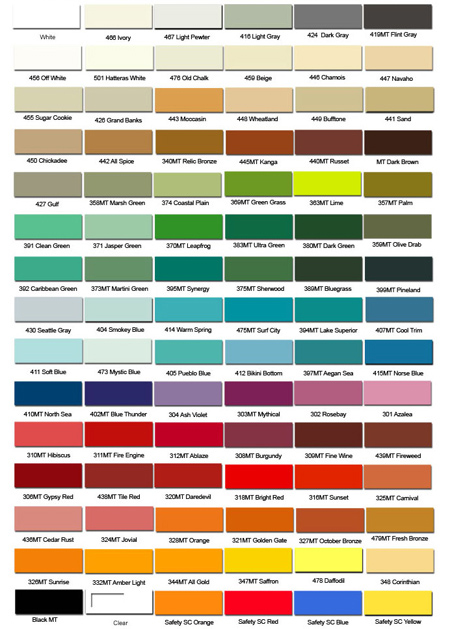 Reviews
Add Your Review
Currently there are no reviews for this product. Share your opinion with others, be the first to write a review.
Add Your Review
Tell a Friend