Lifeguard Mono Epoxy 1-Part Epoxy Swimming Pool Paint

SKU: LG-730
Overview
Lifeguard Mono Epoxy 1-part Epoxy Swimming Pool Paint
Product Overview
---
Mono-Epoxy is a 1 part Epoxy pool paint that makes painting your pool with epoxy easier than ever. It contains a unique resin blend fortified with epoxy ester, which has quickly become a favorite of both the professional and the do-it-yourselfer.
Mono Epoxy pool paint provides the durability and protection of epoxy while eliminating the hassle of mixing, induction time and the limited pot life associated with two component epoxy paints.
Provides a high level of resistance to pool chemicals while creating an effective barrier coat.
Levels well in brush and roll applications and is easily sprayed.
Low odor formula produces a nontoxic finish.
Commercial quality product.
Superior adhesion, hardness and durability.
Resists cracking, peeling and chipping.
No-mix formula makes painting with epoxy easier than ever.
90 Custom Colors Available including Clear!! Scroll down to see color chart.

Please Note: All colors are custom-mixed. No returns allowed on this paint.
Pricing & Shipping
---
Please Note: some colors carry a tint surcharge of $15-$20 (as noted in the color dropdown at the top of the page).


**Free Shipping on Orders of $299 or more (48 US States Only). Please see our Shipping page for more information.
Use On:
---
Swimming Pools
Fish ponds
Fountains
Water features
Supporting equipment
SURFACES: unpainted concrete, plaster, fiberglass, metal, gunite, marcite or surfaces currently painted with epoxy paint.
We do not recommend this paint for spas or hot tubs - use the 2-part epoxy for that.
Paint Application
---
Apply a minimum of two coats.
Paint is self-priming on fiberglass, concrete, plaster, marcite and gunite in two coats - a minimum of two coats is required on the prepared substrate.
For steel substrate, you need to use a primer first.
Covers up to 300 sq-ft per gal.
Brush, roll or spray application.
Bare surfaces should be etched and painted surfaces should be scuffed and etched before applying paint.
Do not fill pool for 7 days.
For clear, make sure the substrate is thoroughly dry and protected from rain or dew after the application because wetness could cause the clear to become milky.
CLICK HERE FOR COMPLETE APPLICATION INSTRUCTIONS
Color Chart
---
CLICK ON CHART TO VIEW LARGER IMAGE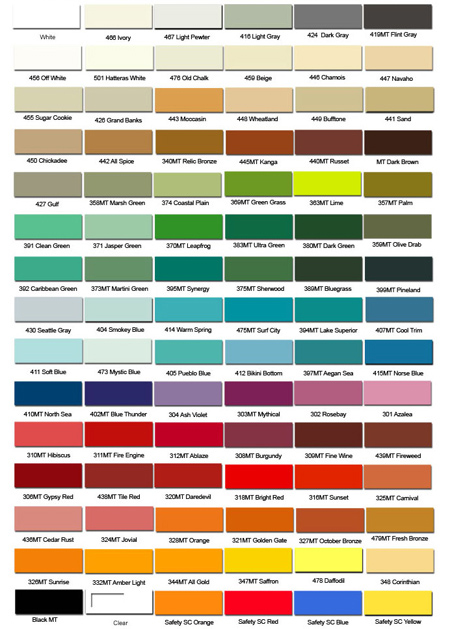 Reviews
Add Your Review
Currently there are no reviews for this product. Share your opinion with others, be the first to write a review.
Add Your Review
Tell a Friend