Mega Gloss 1-Part Marine Topside Polyurethane Enamel GALLON

SKU: BW-87G
Overview
Mega Gloss Topside Marine Paint GALLON
Product Overview
---
CLICK HERE TO ORDER MEGA GLOSS QUART SIZE
MEGA GLOSS Topside Marine Paint is a hard, high gloss 1-part polyurethane finish with great UV protection for boats (above the waterline). It is a technically advanced single component topside polyurethane enamel, giving you a hard protective coating for super high gloss, color retention and long durability. It's like wrapping your boat in glass!
MEGA GLOSS is fast drying when brushed or rolled.
Gives a smooth finish with excellent handle and flow.
This widely used topside polyurethane enamel has tremendous resistance to tough chemicals, cleaning solutions and ultraviolet light with its advanced ultraviolet technology.
Can be used on fiberglass, wood, aluminum and steel.
Perfect for waterline striping.
Mega Gloss is a very versatile enamel and can be used for many uses including marine and household applications (see below).
Can be rolled or sprayed - for spray, thin with Xylene up to 10 % or as needed. Can be sprayed with either an airless or HVLP spray gun.
Pricing & Shipping
---
Free Shipping on this product! (48 US states only). Please see our Shipping page for more information.

PLEASE NOTE: NO RETURNS ON CUSTOM COLORS.
Use On:
---
Fiberglass, wood, aluminum and steel boats (above the waterline).
Boat decks (use non-slip additive for traction)
Wood trims, shutters, baseboards
Kitchen cabinets
Window trims
Outdoor railings, gates, benches, wood furniture, tables - especially in areas near the sea or in areas exposed to high sun, wind, sand and heat.
Paint Application
---
FOR BRUSHING & ROLLING APPLICATION
Can also be sprayed with either an airless or HVLP spray gun.
Thin with Xylene up to 10% or as needed.
Covers 300 square feet / gallon; 2 coats needed for proper application.
Time to overcoat: 80 degrees F - 8 hrs
Recommended: 1 coat of primer, 2 coats of finish
Use Reducer 974 as required for proper flow and performance, and cleanup.
Use Dewaxer 973 for surface preparation.
Color Charts
---
STOCK COLORS (Returns Available):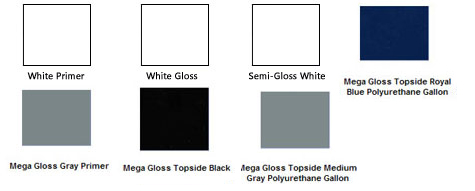 Custom Color Chart (NO RETURNS ON CUSTOM COLORS)
Click here to see a larger view of Custom Color Chart Below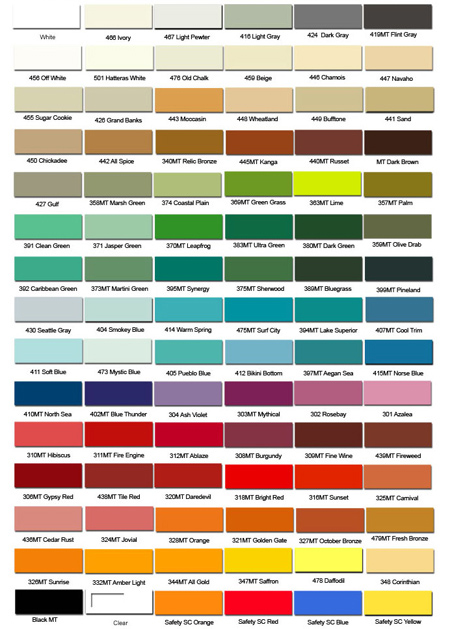 Reviews
Add Your Review
Reviewer: EMANUEL JOHNSON
03/17/2012 08:30am

I TRIED MEGA GLOSS ON MY RE PAINTING OF MY 21 ' MAYKO TURQUOSIE. IT WHENT ON EASILY WITH A SMOOTH ROLLER AND TIPPING BRUSH. I ACHIVED A PROFESSIONAL FINISH WITH LESS TIME IT DOES WHAT IT CLAIMS TO DO. MOST PRODUCTS ADVERTISE BUT DONT COME THRU - MEGA GLOSS DELIVER'S
Add Your Review
Tell a Friend