Mega Gloss Gold Premium Topside Silicone Boat Paint

SKU: BW-88G
Overview
Mega Gloss GOLD Premium Silicone Topside Boat Paint
Pricing & Shipping
---
Quart: $39.95
Gallon: $119.95

Free Shipping on this product! (48 US states only). Please see our Shipping page for more information.
Product Overview
---
Mega Gloss Gold is a technically advanced, single component silicone copolymer topside finish that delivers a mirror-like finish. Loaded with UV stabilizers, Mega Gloss Gold will last up to 5 times longer than conventional topside finishes. It is extremely durable, hard, super high gloss, has exceptional color retention and tremendous durability.
MEGA GLOSS is fast drying which when brushed or rolled and gives a silky smooth finish with excellent handle and flow.
This widely used silicone copolymer has tremendous resistance to tough chemicals, cleaning solutions and ultraviolet light.
Can be used on fiberglass, wood, aluminum and steel.
It's like wrapping your boat in glass!
Hard, mirror high gloss one-part silicone copolymer finish with great UV protection.
Great for cleaning, tough abrasion & stain resistance.
Silky finish which is easy to apply by bristle brush and/or roller.
Perfect for waterline striping.
Paint Application
---
Covers 300 - 400 square feet / gallon; 2 coats needed for proper application
FOR BRUSHING & ROLLING APPLICATION
Can also be sprayed with either an airless or HVLP spray gun.
Thin with Xylene up to 10% or as needed.
Time to overcoat: 80 degrees F - 8 hrs.
Recommended: 1 coat of primer, 2 coats of finish.
Use Reducer 974 as required for proper flow and performance, and cleanup.
Use Dewaxer 973 for surface preparation.
Color Chart
---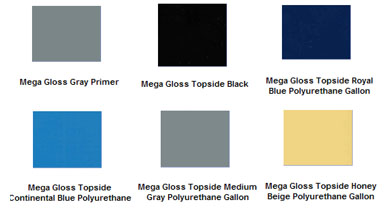 Reviews
Add Your Review
Currently there are no reviews for this product. Share your opinion with others, be the first to write a review.
Add Your Review
Tell a Friend