Muriatic Acid / TSP Kit for Pool and Deck Painting Preparation

SKU: NPF-2601
Overview
SURFACE PREP KIT - PATENTED "ACID MAGIC" CLEANS, ETCHES WITH NO FUMES, & SAFE FOR SKIN & EYES
KIT INCLUDES:
5 GALLON BLACK PLASTIC PAIL
9" ROLLER COVER
2 1/2" BRISTLE BRUSH
1 GAL ACID MAGIC ETCHING CLEANER
1 BOX OF TSP CLEANER
1 SCRUB BRUSH
MIXING STICKS
9" X 12" DROP CLOTH
2 PAIRS OF PLASTIC GLOVES
METAL SCREEN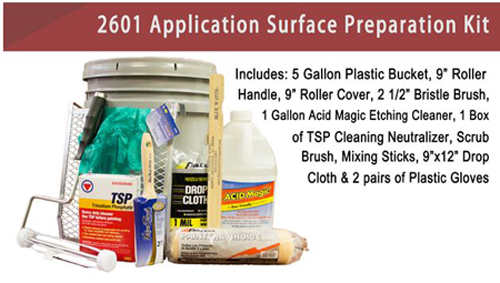 Trisodium phosphate (TSP) is a cleaning agent, stain remover and degreaser, used to prepare your pool surface for painting.
Acid Magic is a muriatic acid replacement that is the result of combining a buffer with Hydrochloric Acid which renders the acid much safer for human skin. This product offers the advantages of most acids, while nearly eliminating the objectionable properties - including acid burns and toxic fumes. Safely etch concrete before painting it.
Advantages:
Significantly reduces toxic and corrosive fumes. Will not burn intact skin. Safer to use.
ACID Magic acid is equally active upon oxides of metal when compared with standard muriatic acid.
With reduced fuming, there is less corrosion to metal structures - including storage areas, pool equipment, and filtration systems.
USES:
Extremely effective acid wash.
Cleans tile and porcelain.
Cleans brick and concrete.
Removes rust, scale, mineral build-up, and stains.
Cleans filters, chlorine generators and meter electrodes.
Cleans barnacles, zebra mussels and scum line from boat hulls.
Paint preparation etch for metal and concrete surfaces.
Use for acid baths/washes

**Free Shipping on Orders of $299 or more (48 US States Only). Please see our Shipping page for more information.
Reviews
Add Your Review
Currently there are no reviews for this product. Share your opinion with others, be the first to write a review.
Add Your Review
Tell a Friend