Kolor Bright Ablative Marine Bottom Paint

SKU: BW-861
Overview
Blue Water Marine Paint Kolor Bright Bottom Paint
Product Overview
---
KOLOR marine bottom paint has the cleanest, brighest colors and the most selection for bottom paint on the market today! Kolor Bright CAN be used on Aluminum boats, unlike most bottom paints out there.

RATED THE BEST PAINT IN ITS CATEGORY - ALUMINUM, WHITE, BRIGHT COLORS - MARCH, 2008 - PRACTICAL SAILOR & POWERBOAT REPORTS.
Combine all of that with a multi-season self polishing ablative copolymer, and our KOLOR bottom paint line is as effective as it is clean & vibrant.
KOLOR marine bottom paint provides antifouling protection against barnacles, algae & hydroids in salt & fresh water on boat bottoms only. KOLOR has universal application over all types of properly prepared botom paints. For use on fiberglass, aluminum, wood & steel hulls.
Brighest Colors including White
Perfect for Aluminum, Fiberglass, Wood & Steel
Excellent for Trailerable Boats
Can be Applied Over Most Antifoulings
No Paint Buidup
Eliminates Heavy Sanding
Great Protection for Tough Fouling Conditions
Pricing & Shipping
---
Quart: $54.95
Gallon: $189.95

Free Shipping on this product! (48 US states only). Please see our Shipping page for more information.
Paint Application
---
Covers 300 - 400 square feet / gallon; 2 coats needed for proper application - 3rd coat recommended on the waterline
To figure out the amount of paint required: Length x Beam x .85 x 2 (2 coats)= Total / 300 feet = Gallonage Required
Color Chart
---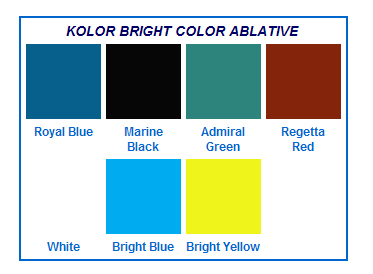 Reviews
Add Your Review
Currently there are no reviews for this product. Share your opinion with others, be the first to write a review.
Add Your Review
Tell a Friend