Waterbase Polyester Urethane Kit

SKU: HP-Kit
Overview
Waterbase Polyester Urethane Kit
High Gloss, Matte or Satin
Product Overview

Benefits:
Exceptional Bonding Capabilities – No primers needed; direct to most surfaces including ferrous and non-ferrous metals without destructive surface preparation
Types of Surfaces – Concrete, stained concrete, carbon steel, aluminum, galvanized metal, stainless steel, fiberglass, wood, clay/masonry surfaces, stone, hardwood, terrazzo, vinyl composition tile (VCT), vinyl sheeting, ceramic and other tile and grout surfaces with the addition of Adhesion Bond
For Interior or Exterior Use – Allows for a high performance urethane to be used indoors while the building is in operation
Very Repairable – Small sections can be repaired without noticing or redoing the entire section
Significant Cost Savings – Reduces cost by less coats, no primer needed, labor reduction and longer lasting which means more time between recoats
For Vertical or Horizontal Surfaces
Brush, Roll, or Spray Application
Countertop application
requires 2 coats, the 2
nd
coat being clear. The first coat will need the TS-180 Adhesion Bond.

ENVIRONMENTAL:
Low to Zero VOCs – The volatile organic compounds (VOCs) are less than 15 grams / liter
Virtually Odorless – Does not require special breathing apparatus / respirators and does not omit any free monomers after parts A & B are mixed
Produced in Total Water – Does not use solvents, exempt solvents or any co-solvent
Does Not Contain Proposition 65 Chemicals – These chemicals are known to the state of California to cause cancer and birth defects
Meets U.S. Building Councils' LEED Criteria – Under EQ 4.2 for Low-emitting paints and coatings
"Super Compliant" Coating – The HP-105 is on California's South Coast Air Quality Management District "Super Compliant" list of products with VOCs less than 10 g/l
ENERGY STAR Qualified & Cool Roof Rated Product – Tested for 3 years at 3 different weather farms (FL, OH and AZ) and sent to UL for evaluation of the solar reflectance (Initial 0.83 and Aged 0.78) and thermal emittance (Initial 0.91 and Aged 0.85)
PERFORMANCE
Permeability (2.43 Perms) – Water barrier not vapor barrier; allows water vapors to migrate through the coating into the atmosphere
Ultraviolet Insensitivity – Excellent UV protection in color or clear; no clear coats needed for better protection
Impact Resistance – Outstanding impact resistance, product applied direct to steel and aluminum q-panels can be hit many times with a ballpein hammer, both coated and uncoated side, without any cracking, chipping or adhesion loss
Abrasion Resistance – All products are less than 30 mg loss on 1,000 cycles which shows the longevity and durability of the products over time
Flame Spread – (ASTM 84); Result = 10 which is Class A / Type I (0 – 25 Flame Spread Index)
Smoke Developed – (ASTM 98); Result = 5 which is Class A / Type I (0 – 450 Smoke Developed Index)
Increased Co-Efficient of Friction – Products certified by the National Floor Safety Institute as High Traction with a wet co-efficient of friction rating greater than 0.60
Provides Anti-Graffiti Properties – Paint, spray paint and makers can be removed without damaging the coating
Inherent Dry Erase Characteristics – Can turn entire walls or tables into dry erase boards without ghosting / shadowing
90 Custom Colors Available including Clear!! Scroll down to see color chart.

Please Note: All colors are custom-mixed. No returns allowed on this paint.
Pricing & Shipping
---
Please Note: some colors carry a tint surcharge of $15-$20 (as noted in the color dropdown at the top of the page).


**Free Shipping on Orders of $299 or more (48 US States Only). Please see our Shipping page for more information.
Color Chart
---
CLICK ON CHART TO VIEW LARGER IMAGE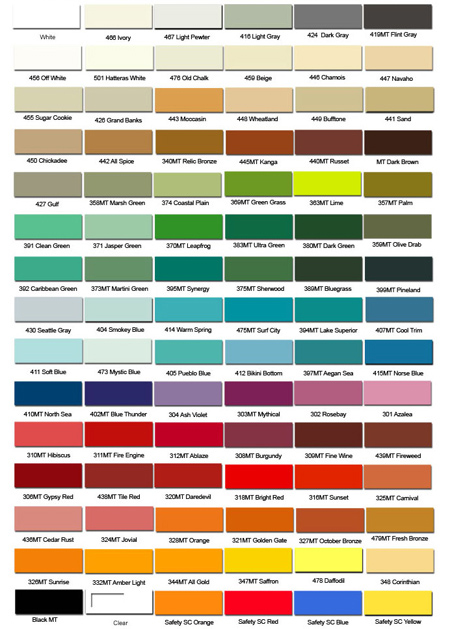 Reviews
Add Your Review
Currently there are no reviews for this product. Share your opinion with others, be the first to write a review.
Add Your Review
Tell a Friend